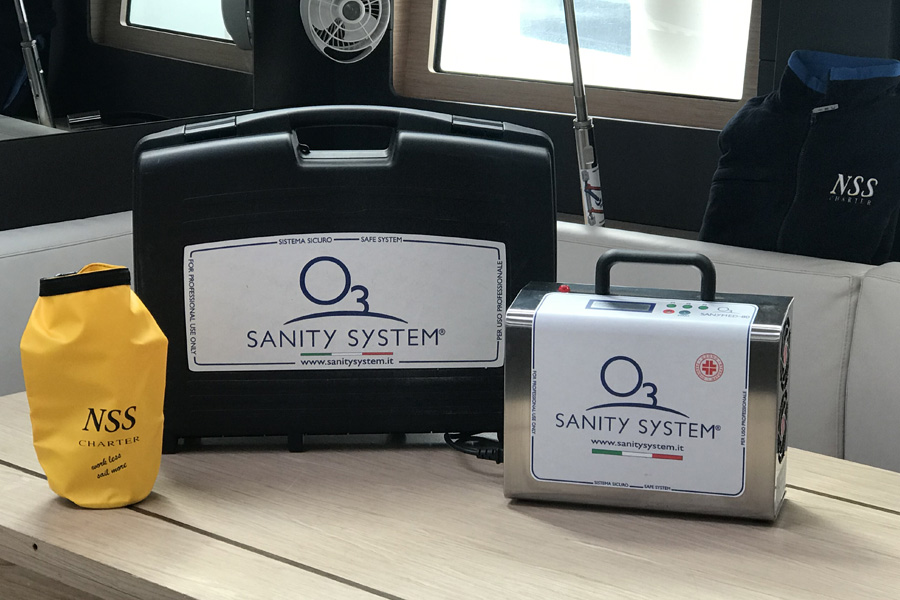 From Solo Vela Net

NSS CHARTER: the first company in the world to use ozone saturation to sanitize its boats
"Marina Cala dei Sardi - The first company in the world to use ozone saturation to sanitize its boats between freights is Italian.
NSS Charter, the largest rental company in Italy with bases in Sardinia, Tuscany, the Balearic Islands, and the Caribbean, long before the arrival of the Coronavirus, tackles the problem of sanitizing boats in a scientific way.
"When we decided to raise the standards of boat sanitation - says Simone Morelli CEO of the company - we had a study done to understand which was the best and most practicable system since a few hours pass between disembarkation and embarkation. Boat must be completely cleaned and sanitized, and the result was ozone. We therefore turned to the O3 Sanity System, a leading company in the field of ozone sanitization, and we purchased machines that are capable of removing bacteria, molds and viruses by saturating environments with ozone. "
The machines of the O3 Sanity System, commonly used in many hospitals, are able to saturate a small environment with ozone that performs its sanitizing action. During the entire 20-minute operation, the boat must be kept closed and, once sanitized, must be well ventilated before being able to return.
The machine, which today cannot be found on the market given the large number of bookings received from hotels and hospitals in this period, is easy to use, must be connected to the electricity and left on the dinette floor for twenty minutes after opening all the doors of the cabins and bathrooms and closed the boat.
The advent of Coronavirus brought the issue of boat sanitation to the attention of all the public, a point that in Italy, for a matter of culture and customs, has always been held in high regard, so much so that the boats of the fleets quality Italian, are the cleanest in the world."
06/03/2020